What is a Junior?
A Junior is a DAR member age 18 through 35 years of age (until her 36th birthday). She holds full DAR membership, and when qualified, may serve as an officer and chairman at the national, state, and chapter levels. As one of the smaller State Societies, Utah Juniors wear many hats! We attend meetings, serve on committees, participate in chapter activities, subscribe to the DAR magazine, the American Spirit, follow the DAR blogs and Facebook pages and much more! She may page at state conference and Continental Congress until her 41st birthday.
Junior Members join DAR for a variety of reasons and have diverse interests; however, working together for a common goal forges many friendships and offers endless opportunities for personal and professional growth inside and outside of DAR. Junior Members are the future of DAR and Utah Daughters are proud of our young women!
Utah Juniors are excited to Explore 85 years of Junior Membership!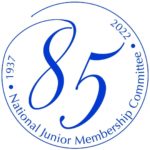 The National Junior Membership Committee was established in 1937.  The goals are: to gain new Junior members; to build a well-informed Junior membership; to encourage active participation in all parts of DAR service; and to support the National Junior Membership Committee's official fund-raising project – the Helen Pouch Memorial Fund.
The Helen Pouch Memorial Fund is the National Junior Membership Committee's official fund-raising project. This fund is named in memory of Helen Pouch (1901-1919) who was the daughter of Mrs. William H. Pouch, the first National Chairman of the Junior Membership Committee in 1937, and later President General, 1941-1944. The fund provides scholarships, medical aid, and general financial assistance to the DAR supported school, Kate Duncan Smith DAR School in Alabama.  In honor of Mrs. William Pouch, or "Aunt Helen," as she was fondly called by the Juniors, we use the Kangaroo to represent the Helen Pouch Memorial Fund.
Utah Daughters treasure our Juniors and are excited to see them find their story with our State Society as their "Hearts Sparkle through Service" in the National organization.