Dear Friends,
Bright and early on September 18th, Utah Daughters met at the Salt Lake International Airport to greet, register, and send-off Veterans from around the state for the Utah Honor Flight. It is the first since the pandemic began.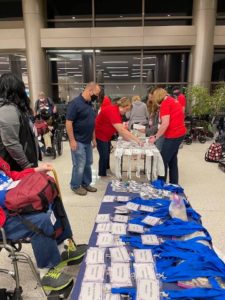 The Battlin' Betties, the Utah Patriot Guard, and the Bag Pipers of Utah were also in attendance.

Then on Saturday the 19th, several daughters from the Golden Spike Chapter including our DAR Service for Veterans State Chair greeted the Veterans as they returned home from their visit to Washington, D.C.
What a celebration! Family members lined the hallway as the Veterans passed through welcoming them home.

Utah DAR is proud to work with the Utah Honor Flight and look forward to many more opportunities to serve these Utah Veterans.
In Patriotic DAR Service,
Kathryn Asay,
Utah State Regent