Hello Friends,
The month of March has been designated as Women's History Month. This Regent would like to discuss one of our State Society's founding members.
Harriet Jacques Wetmore Sells was a Real Daughter. A Real Daughter is a daughter of a Patriot who fought or assisted the American Revolution. She suggested the name "Spirit of Liberty" for the original Chapter in Utah. Mrs. Sells was also the Organizing Regent for the Spirit of Liberty Chapter; however, the Chapter was disbanded in 1976.
This photograph is Harriet as a young woman.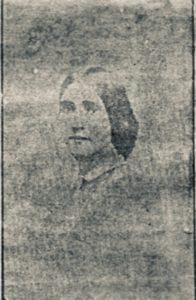 This photograph is Harriet in 1909, a mere seven years before her death.
Her father was Bela Wetmore, a soldier in the Revolutionary War, that served as a sixteen-year-old volunteer. He was a Private in the Third Massachusetts Regiment. He served until the end of the war in 1783.
Mrs. Sells died in 1916 and was laid to rest in the Mt. Olivet Cemetery in Salt Lake City. She was age 79 at the time of her death. Her original monument, shared with her husband, Elijah B. Sells, has a bronze Real Daughter plaque that was affixed to the side near the time she was buried.
Our Honorary State Regent Brenda Reeder restored Harriet's headstone as one of her State Regent's Projects.  The new marker sits at the base of the monument and was dedicated in 2018.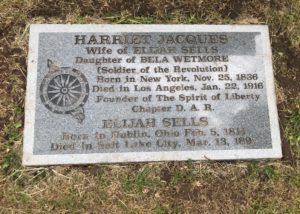 Remembering the "Legacy of Love" that Mrs. Sells left for our Society today,
Kathryn Asay,
Utah State Regent