Hello Friends,
As Utah State Regent, I am pleased to present the Modern Irrigation Monument which commemorates the Utah Pioneers' ingenuity in diverting creek water to irrigate their newly sown fields upon arrival in the Salt Lake Valley in July 1847.

At the 1931 dedication by the Utah State Conference of the USSDAR, an American Flag was removed to unveil the impressive monument.
During the rededication ceremony in 1938, Utah Governor Henry H. Blood stated, "For their act in commemorating the advent of fruitful agriculture in the state as pioneers in modern irrigation who have been an inspiration to new generations."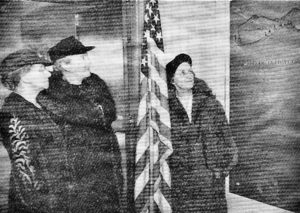 The monument is currently located near 111 East 300 South in Salt Lake City, Utah.

A very special thanks to those who have helped compile this information.
Sharing the history of Our Legacy of Love,
Kathryn Asay,
Utah State Regent