Dear Daughters,

Your Utah State Officers participated in an August 17th Board of Management and Workshop. The new State Regent's theme, "Points of Light" was presented to Chapter Regents and State Committee Chairmen.
Every Chapter in Utah can be a "Point of Light" in their community. Daughters in their chapters are encouraged to choose what best represents their chapter's personality in DAR work. Be sure to spread the word so the general public will understand what we do. We hope to hear success stories from each Chapter Regent at State Conference next spring.
State Chairmen are to encourage the Daughters to join in "Celebrating America" with various activities in their respective assignments. Making items for Veterans, assisting literacy programs in schools, participating in Naturalization Courts, collecting soup labels, box tops for DAR schools, and other DAR activities help bring attention to the community about our story and fine public service.
Volunteerism in the community is part of our President General's emphasis on "Celebrating America." All daughters are to report their community service volunteer hours to their chapter regent in monthly meetings, or via e mail. If you have questions as to what counts as community service please contact State Chairman, Katie Madsen, Katie.madsen@me.com. Utah daughters are great volunteers and will shine in this area. Your state regent will count her community service hours in the Coast Guard Auxiliary patrolling lakes and educating the public about boating safety, teaching youth in church, caring for the aged, and speaking at Naturalization Courts. All of you will be able to report the wonderful work you do in your communities and families. Hours for the entire year 2013 will go into a grand total to be displayed at our Spring State Conference.
Our President General, Mrs. Young, has suggested some examples of community service i.e. recycling, volunteering at a school, serving as a team Mom, serving at a library, church, scout troop, sr. citizen group, serving veterans, causes such as breast cancer walks, serving on a board of hospital, historical, or cultural or homeowners association, presenting programs or awards at schools, participating in naturalization ceremonies, parades, bell ringing, mission trips, preserving cemeteries, offering genealogy workshop to the public and serving as a Senior leaders in the CAR. This list is just a suggestion. There are more areas of public service not listed.
September 7th, fall activities began with your regent attending The Children of the American Revolution opening social and picnic at Sr. President Judy Mayfield's home. A lesson was given on the drums and fife players (which were children ages 10-18 years old) of the Revolutionary War. A picnic and play outside completed the event. Many of the daughters are enrolling their children and grand children in this organization to learn patriotism, history, service, and to have fun. The CAR meets 4 times a year: In November the children will march in a Veterans Parade; in February the children will make Valentines for Veterans, and in April the children will march in the Color Guard for Saturday's State Conference meeting at the Radisson Hotel. Another chapter of CAR is forming in the St. George Area. Contact KariAnn Christiansen for information in St. George kariann51@msn.com and Judy Mayfield in Salt Lake City jwmayf@gmail.com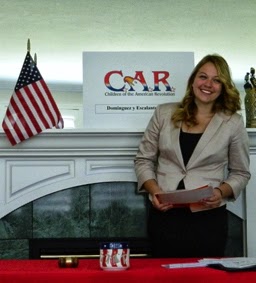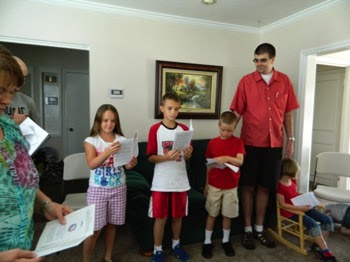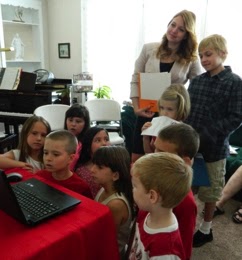 Sr. C.A.R. Leaders: Meredith Frey, Cindy Toone and Judy Mayfield
Princess Timpanogos Chapter's meeting, September 16th, included a lesson on a "Real Daughter," Rebecca Winters, buried near Scotts Bluff, Nebraska. Carol Olson, a direct descendant hosted the event at her lovely home. Her patriot, Gideon Burdick was a drummer boy in the Revolutionary War for Independence. His daughter was Rebecca Burdick Winters. Her monument is cared for by the Nebraska State DAR Society.
P.T. Regent Harriet Rasmussen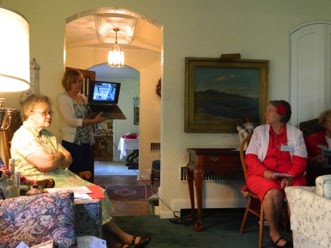 Helen Clayton, Jennifer Gray and Francis Merrill
It was a privilege to speak on the Constitution for a few moments at Layton's Constitution Day Observance Sept 17, 2013. Golden Spike and Utah Sons of the American Revolution co-sponsored the event. Lorilee Beazer, GS Regent, Brenda Reeder, Vickie Fuller, were impressed with guest speaker, Stan Ellsworth's "American Ride" star on Ch21 comments on the Constitution and America.
Left-Right: Lorilee Beazer, Golden Spike Regent; Vickie Fuller, State Registrar; Brenda Reeder, State 2nd Vice Regent, Shirley Nelsons, State Regent
September 18, 2013, this officer attended Bald Eagle's opening social and meeting in Cedar City, wherein she installed Sandi Brady as the new Chapter Regent and Heidi King, as the new chapter treasurer.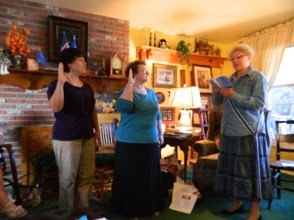 Accompanying the state regent was state chairman of Chapter Development and Revitalization Commission, Judy Mayfield. LeAnn Riddoch, Color Country Regent and Linda Baldazzi drove from St. George to attend the event. It is always a treat to visit with daughters from all over the state.
September 28, 2013, your state regent attended Wasatch Range Chapter in Orem, Utah, and installed new Chapter Regent, Lorena Norris and Vice Regent, Kathryn Jenson. This officer spoke briefly about the Constitution and displayed The Constitution Flag. The Daughters were informed as to how they can be a "Point of Light" in Utah County. Many suggestions were given and a chapter project was determined.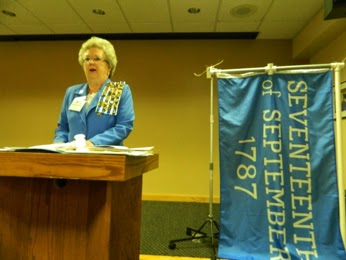 Lorena Norris, Regent-Wasatch Range
Your State Regent will be off to The National Board of Management October 3, 2013, Washington D.C. While there, the DAR Museum will have its Opening Night with a display called "Creating the Ideal Home 1800-1939".
In DAR Friendship,
Shirley Nelson,
UTAH STATE REGENT NSDAR