As 2018 draws to a close, Annalise and I would like to highlight the wonderful chapters and members of the Utah State Society. Our nine chapters have embraced our organization's three-fold mission – Historical Preservation, Education and Patriotism by supporting multiple activities and events in their local communities.
For Constitution Week, our chapters collectively obtained over 20
Proclamations from local city councils as well as from Governor Herbert. 
In recognition of the 100th Anniversary of WWI, the Golden Spike Chapter assisted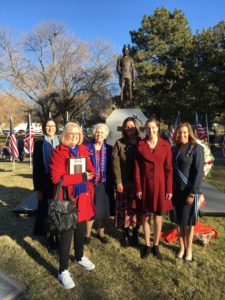 the Weber County Heritage Foundation in securing a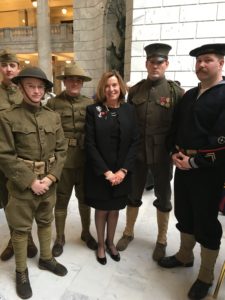 DAR Special Projects Grant for the refurbishing of the WWI Doughboy Monument located in the Ogden Cemetery. The re-dedication ceremony took place on a blustery November 10th. The State Society was also represented at the closing ceremony of the WWI Utah Commission at the Utah Capitol on November 8th.
Our members have donated hundreds of items for the Utah active military Christmas stockings which is sponsored each year by Operation Give.  Utah State  Vice Regent and Project Patriot State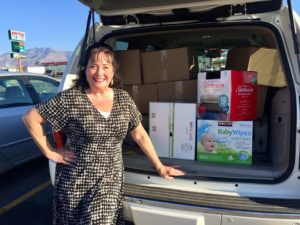 Chairman Kathryn Jenson collected carload after carload of boxes containing toiletries, granola bars, games and Christmas cards.
Color Country Chapter had Scarecrow George greeting people in St George as they brought donations not only for the Christmas stockings but also to raise awareness for the upcoming Wreaths Across America event.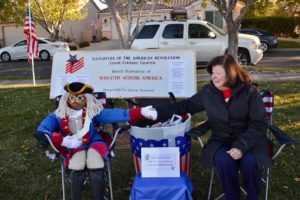 Wasatch Range Chapter Regent Diana Nielson and Kathryn attended the send off party for the military Christmas stockings.
In addition, representation at several Yellow Ribbon Ceremonies took place at Camp Williams during October and November. 
  It is always an honor to speak to our service men and women.
Chapters continue to work with local schools via the Community Classroom Committee to provide school supplies for both teachers and students.  Golden Spike Chapter has assisted both the Northridge Learning Center and the James Madison Title 1 third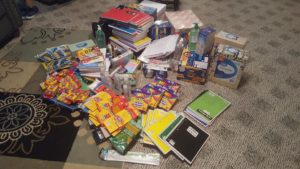 grade classroom with crayons, pencils, notebooks, etc.
The Utah State Society received in November a Proclamation signed by Governor Herbert for Native American Heritage Month.  The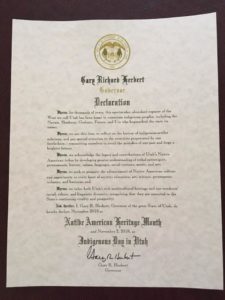 Color Country Chapter gave $250 to Washington County School District Indian Fund and donated a basket of history books to the Red Mountain Elementary School.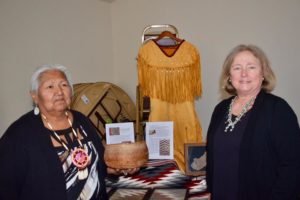 In December, our members came together to celebrate the Christmas season at the annual State Officers Club luncheon at The Lion House. 
Chapters are also hosting their own Christmas luncheons and teas this month. On December 15th, members will be participating in Wreaths Across America ceremonies across the State.  Color Country and Salt Lake Valley Chapters received a grant ($2500 each) from Wells Fargo for 250 wreaths each.
2018 has been an outstanding year for the Utah State Society.  The above simply highlights the accomplishments, enthusiasm, the gift of time and talent and compassion our members not only give to the State Society and National organization but to each other.   We have amazing members!
Annalise and I would like to wish everyone a Merry Christmas and a Happy New Year.  2019 is going to be a mind blowing!
Blessings,
Susan Holt
Utah State Regent, NSDAR